Reading time: 4 – 6 minutes
OK, I am breaking a promise.  In my last post…which was way too long ago…I said I would write about a Nidek e-blast that deserves a better grade.  I thought I had one.  I looked at about 10 Nidek e-blasts that I saved and decided not to write about them.  It's Friday.  In the US we have had enough negative news and commentary over the last couple weeks.  It seems like most of the world is immersed in bad news of some sort or another.  How about something POSITIVE?
So, let's look at a Very Very Good e-blast from Optovue.  This is one of the most effective e-blasts I have seen all year.  I would have given them an A+ if they had just not made one mistake.  A mistake that could cost them some leads.
Here is what the e-blast recipient would see in their email client if a preview pane was open: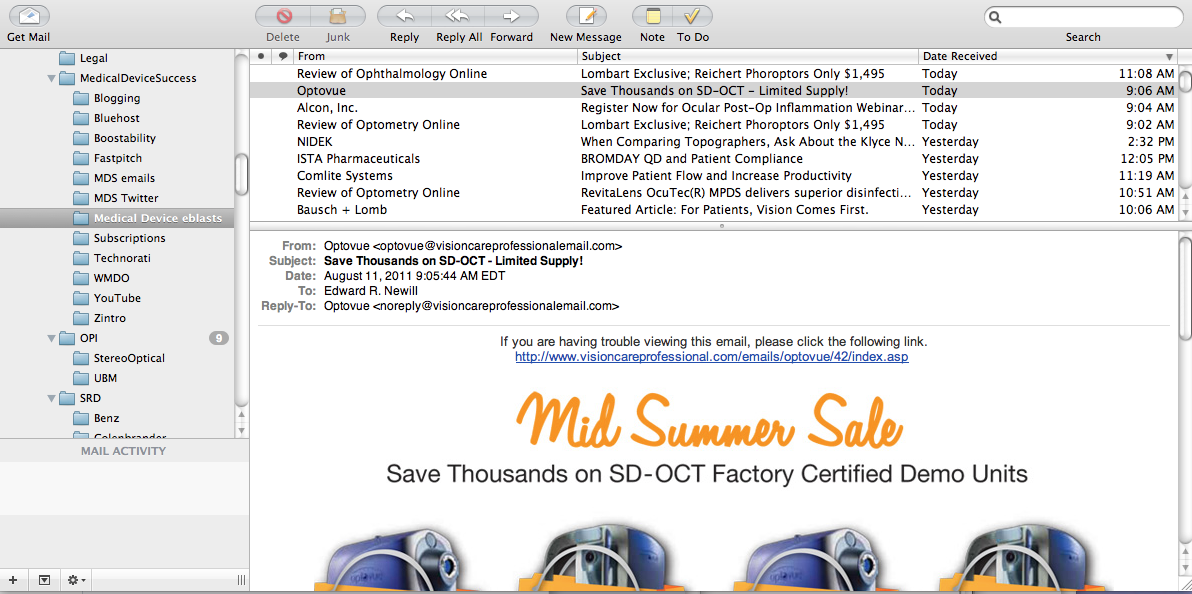 If you are like me and have been following the previous posts, you are saying, "Sweet!"
First, we will evaluate the From section, Subject Line and 20% Zone area.
From: Optovue (deployed by trusted source Wolters Klumer Vision Care) – Perfect. The reader knows exactly whom it is from.  And, by having "Optovue" here, they don't have to waste precious space on the Subject line telling readers who the e-Blast is from.
Subject Line: "Save Thousands on SD-OCT – Limited Supply".  POWERFUL! TO THE POINT! CALL TO ACTION – "Limited Supply"!! SD-OCTs are still a hot product in the ophthalmology market.  That subject line will definitely get readers to dive into the content.
Now, look at the 20% Zone that we see in the preview pane.  Right at the top, the message of saving thousands of dollars is repeated.  And, the reader learns that the sale items are certified demo units.  The colors and "Mid Summer Sale" script are cheerful.  The artwork is compelling and supports the "Mid Summer Sale" theme.
On to the Body and Content of the e-Blast.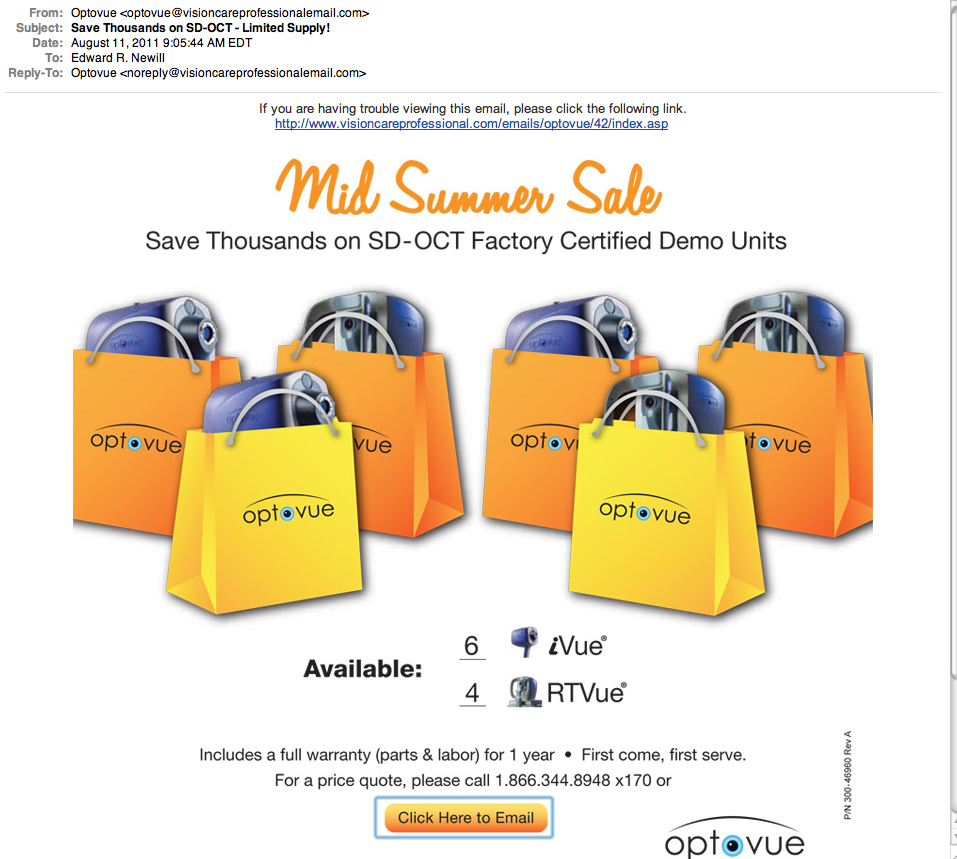 BEAUTIFUL!! Notice there is very little copy.  They know they have a good product for their target segments.  They aren't going to waste space with a lot of puffery.  They know there is demand for the SD-OCT.  They get right to the point.  Here is what is available.  First come, first serve.  Indicating the inventory levels is good technique.  They could do an e-Blast in a couple days showing the inventory going down.  What if they run out of demos?  Well, if they are like most diagnostic equipment companies they will tell the doctor, "Sorry, they are all gone but let me see what kind of deal I can do for you."  I guarantee that Optovue won't let those interested doctors down.
Sigh!….  I really wanted to give them and A+ because there was so much good about this e-Blast.  Then….just out of curiosity I clicked on the yellow button.
What cost Optovue the A+? The "Click Here to Email" button takes the reader to the "Contact Us" page of the Optovue website.  Big mistake! Now the reader has to take the extra step of clicking on one of the email addresses or fill out a form.  This Contact Us page is not very good.  It is a long page.  If you have a small laptop and don't think to scroll down the page, you may miss the form at the bottom to fill out.  This form is for all "contact" situations.  It is not a landing page specifically made for this e-Blast.   On a Contact Us page like this, they could have some leads going to several different emails that are listed at the top of the page.  Or, the lead may fall through the cracks if the form isn't filled out correctly.  So, the excited and motivated reader gets sent to "Contact Us" page hell.
Always, always use a purpose built landing page for your e-Blasts as a place to capture the prospect's contact information.
On the other hand, because there is limited inventory, a motivated reader is likely to call the phone number they provide.
Congratulations to Optovue for showing us (for the most part) how an e-Blast should be done.  Their marketing person deserves a raise!